Bitcoin mining: Mining bitcoin has become very profitable. In fact, returns from Bitcoin mining have outperformed returns in investing in Bitcoin itself. Is mining crypto worth it? After the initial cost of hardware, and ongoing cost of maintenance and electricity there have been many profits made in this bull run. The introduction of ASIC miners increases potential daily profits while keeping the operating costs low. 
The risk factor still exists. Crypto in general is still speculative and poses many risks to investors and miners are not exempt. In fact, miners take on more risk than holders of cryptocurrency. The current pressure to reduce or eliminate gas fees is left many mining companies worried about their ability to make profits. There is no doubt that gas fees on the Etherium network are really high and until they are reduced miners will continue to benefit.  
Mainstream adoption: Cristiano Ronaldo becomes the first soccer player to receive crypto tokens as consolation. He was rewarded with 770 $JUV coins marking his current record-breaking goal of scoring 770 goals. This is very bullish news for the crypto space as heavyweight celebrities add fuel to the mass adoption of cryptocurrency. 
As influential figures become part of the crypto space we can expect the interest of retail investors to soar. We can also expect that the sports industries continue to support blockchain projects due to the recent popularity of NFTs. 
Crypto Trends: Twitters Jack Dorsey has sold his first tweet ever for 2.9 million USD or 1630 ETH. Common circulating ideas regarding NFTs are that they are just a fad and that may be only around for this bull run. 
The concept of creating digital content and being able to track, distribute and re-distribute it via blockchain is here to stay. I do agree that the implementation still needs some work and the use cases need to be clear, applicable, and demonstrate value in order for the mainstream retail investor to adopt it. Early pioneers of NFT play an important role, their job is to convince us that we have real case use.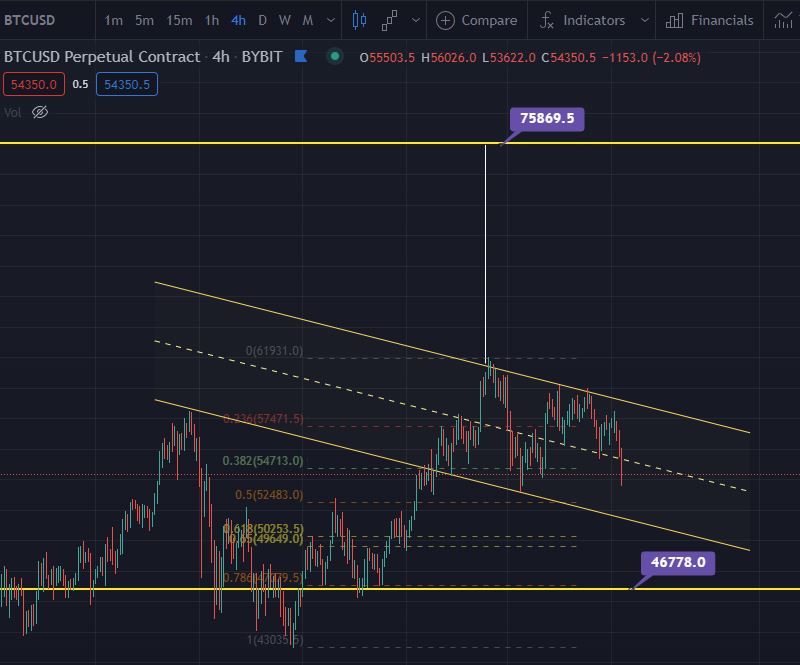 BTC Has broken out taking many Alt-coins down with it. It is also worth noting that BTC dominance also fell making altcoins a promising investment opportunint. As the dominance falls we can expect Alt-coins to rally. If we look at the BTC chart we can see that the cup-and-hand is still in play. In order to invalidate the pattern price action needs to fall below the  .5 fib level at 52.3k. If this does happen the bearish target will be a retest of the previous low of 44k. These dips are great accumulation opportunities. Buy The Dip. 
The bullish scenario is still very likely; we are still in a bull market. If we break out of the cup-and-handle the price target is 75.8k. At this point, I anticipate a retracement so profit taking is a good trading strategy at this level. 
Buy The Dip Opportunities
Looking for retracements to get good entry positions.